Drafting Toolkit
Remember this post last month when I asked for your sewing-related questions? Well, I'm trying to (slowly—I apologize!) go through and glean some ideas for potential post-topics. One of the questions from Vicki Kate (yes, the same gal who won the buttonhole tool giveaway!) caught my eye:
"I'd love to know what your basic drafting tool kit is!
For following along my kit currently consists of:
Tape measure
Ruler
Yard stick
Compass
French Curve
Tracing Paper
Calculator (for doing the maths required when grading a pattern)
Anything else that would be helpful? I keep wondering about one of the gridded cardboard cutting mats."
This seemed a particularly apropos question to address, since I'll be doing a little pattern drafting instruction in the upcoming circle skirt sew-along. (Don't worry though, you won't need all these tools—I'll give you a supply list when the time comes!)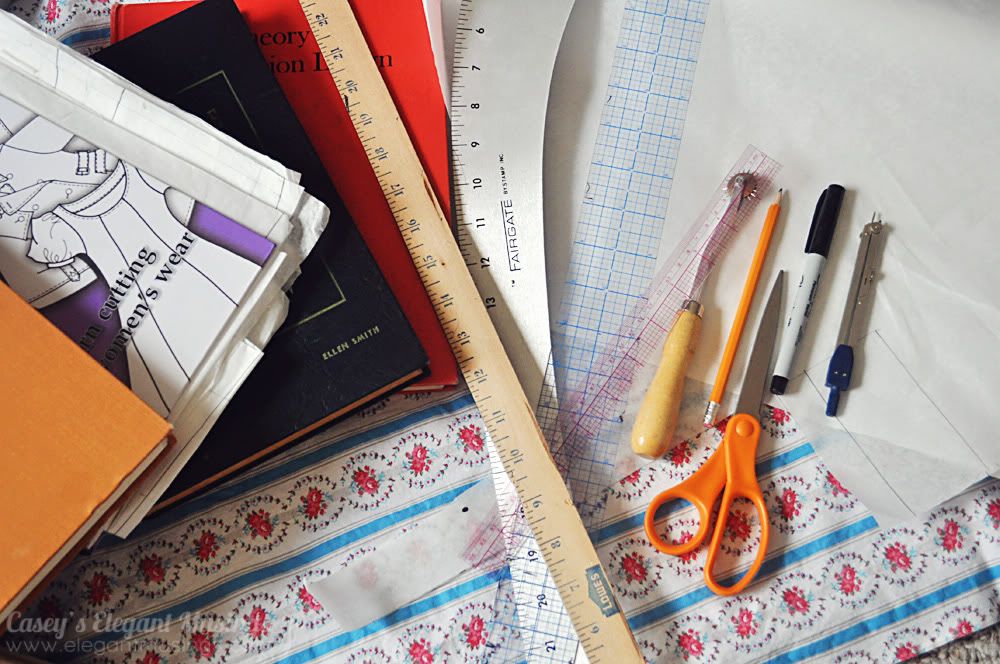 My drafting toolkit isn't that extensive; I'm sure there are those who have lots of the professional-type bits and bobs for pattern drafting. But as with a lot of my sewing equipment, I tend to keep it simple.
Pattern drafting paper: I keep several types on hand. For larger projects or those that will take a beating, I use inexpensive banner paper that you can get at an office/stationary supply store by the roll. It's about 30" wide and lasts for several projects.
I also use a lot of my favorite paper (both for drafting and pattern tracing): medical table paper. You can get it on Amazon for about $30 for 12 rolls. I split an order with a friend last year and am down to my last roll already. (Guess I draft/trace a lot, huh?) It's not as sturdy as banner paper, but is great for initial drafts that I end up tossing as I go. Comparable to this would be extra-large sheets of tracing paper (available at most art supply stores), although more expensive in the long run if you are serious about drafting.
Another option would be Swedish Interfacing. Though I don't favor it because it's pricy, and you go through a lot of paper when drafting!
Cardstock/light cardboard: I use this to draft my finished "master patterns" on (such as a sloper). I generally just cheat and use heavy cardstock sheets from the office supply store, but you can buy the stuff professionals use online. This is great because you can just trace around your pieces, either directly onto the fabric or paper. (Which is why it's perfect for slopers!) The upside of tracing finalized patterns onto card is that you can clip and hang them so they won't get crushed.
Rulers: This category encompasses several types. I always have at least a couple yardsticks on hand for longer measures (such as skirts), an 18" x 2" gridded ruler, a metric ruler (for using with some of my British drafting texts), a metal curved ruler (I have a Fairgate 24" curve), 90° triangle protractor/ruler (that also has a 45° side), and a tape measure. The combination of these four usually suffices. Sometimes I'll also use a French curve for tight, fiddly curves, or a circle template, but neither of these are technically "rulers".
Marking tools: I have a package of regular old #2 yellow pencils and some fine-tip Sharpies. I usually start out by drafting with the pencils (so I can erase any mistakes) and finalize the lines with the marker. Also handy to have: fine-tip markers or pencils of different colors. This is good when you're adjusting a pattern so you can differentiate the alteration lines.
Cutting mat: I use one of those basic, fold-out, gridded mats for all my drafting (and fabric cutting). The grids are semi-helpful (check to make sure they're accurate first!), and having that much surface to work on is a plus. You can find them inexpensively at most fabric stores. I go through about one of these a year, and then recycle the old one!
Drafting compass: Useful when I have circular curves to draft.
Paper scissors: A must! Along with a lot of marking, you'll be doing a ton of cutting. Get a decent pair that won't get nicked too easily and cuts well.
Tape: Needed for taping together sheets of paper for larger drafts, or accidental (oops!) cuts into your paper pieces you may make while drafting a pattern.
Tracing wheel: I have the sort (purchased on Ebay last year) that has pin-like tips all around the wheel. I like this because I can trace through a pattern I'm working with onto paper below and transfer important lines like grainlines or seam allowances. Very handy when not working with transparent paper.
Zip bags or manila envelopes: I use these to store all finished paper (non card) drafts in. I'll usually include my initial sketch, the date it was drafted and such in there are well.
Reference books: I always keep these handy! On my shelf at the moment:
Aldrich, Winifred, Metric Pattern Cutting for Women's Wear: My hands down, favorite drafting book. Shows how to draft a variety of slopers (fitted, jersey, etc.) and basic variations.
Bergh, Rene, Make Your Own Patterns: The first book I ever bought on pattern drafting. Fairly easy, though the instructions are sometimes a bit wonky (technical term).
Brockman, Helen, The Theory of Fashion Design: A great 1960s era drafting book. Few instructions on slopers, but great for period-appropriate silhouettes and details.
Ein, Claudia, How to Design Your Own Clothes and Make Your Own Patterns: This is a charming little 1975 how-to book. Only covers how to actually design the clothes from a base pattern, so does not include sloper-drafting information.
Kopp, Ernestine, Designing Apparel Through the Flat Pattern: I have two, older editions of this large textbook and refer to them often. Kind of a dictionary of styles for drafting!
Patch, Cal, Design-It-Yourself Clothes: One of my favorite to recommend to beginning drafters. Take note though that the base patterns she shows how to draft are not the traditionally fitted slopers.
There are of course plenty of other books that I don't yet own in my personal library. If you're interested in investing in one of the larger drafting textbooks, I'd highly recommend checking out reviews on Amazon.
I hope this answered some questions! If you draft patterns, please chime in with your favorite tools that I may not have mentioned. As I said: I tend to keep my toolkit pretty simple, so this doesn't encompass everything.