Sourcing "Vintage" Fabric
One of the frequent questions that I receive in my inbox is how to go about finding fabric sources online, and more specifically garment fabric that is a reasonable facsimile of vintage fabric. I purchase about half my fabric online, and the other half is what I've found at various retail spots. So I don't claim to be an expert. But I do know a couple places to hunt online and ways to find vintage-style fabric.
First let's talk a bit about fabric that reads "vintage". Certainly classic patterns like plaids, houndstooth, polka dots, and checks work well with vintage styles. (There is a reason they are classic after all!) Finding novelty, floral or other prints are far more difficult—especially if you're looking for a fabric that isn't quilting weight cotton (of which there is an abundance of darling reproduction prints). My number one piece of advice is to study. Whether you find the fashions of the 30s or 50s appealing, spending a bit of time learning what colors and patterns were popular for your decade of choice is half the battle. I've included some images from my collection of mid 40s fabrics; these are not only pretty to look at but tell quite a story when it comes to selecting fabric for your modern-vintage projects.
Another key to modern fabric for vintage sewing is finding similar fabrics that were popular in the past. While they aren't as available as they once were, you can still find rayon (or wool) crepe and challis, which were two popular fabrics in the 30s and 40s. I've been able to find woven rayon fabric quite often both online and occasionally at brick and mortar shops (the most surprising finds have been on the clearance racks at JoAnns!). You just have to search. (How I wish there was a one-stop-shop for vintage-style sewing supplies!)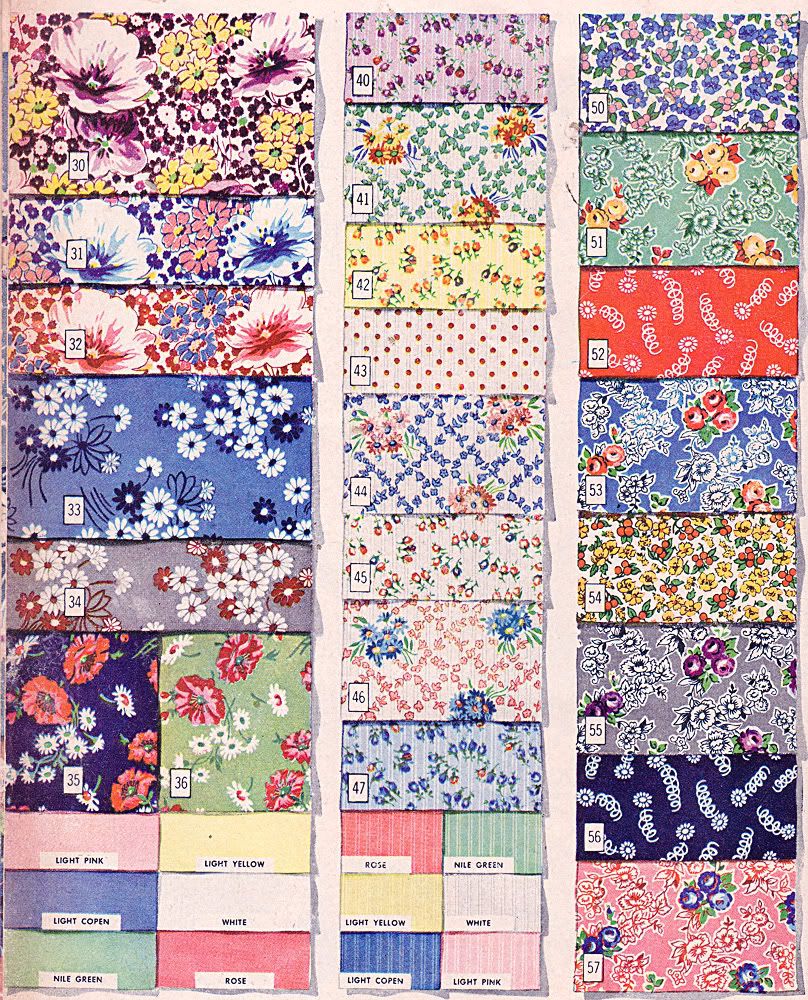 Here are a few fabric websites that I frequently haunt and/or have purchased from. Most of these are US-only websites, so I'd love to know some other spots that you shop online as well.
Denver Fabrics – This is where I've found a lot of rayon material that I've used for dresses. It's hit or miss, and be sure to read the descriptions carefully, but there are gems. I've found lovely rayon crepe, sueded rayon, cotton lawn with late 30s-appropriate prints, and novelty tropical designs that would work beautifully on a 40s midriff ensemble!
Fabric.com – I tend to go here more often if I'm looking for a cotton or linen material, rather than rayon (they carry mostly rayon knits), but I have found some cute materials (and great "classic" designs) for good prices.
Gorgeous Fabrics – Admittedly, I have only "window shopped" here, but there is a wide range of fabrics stocked here; lots and lots of nicer fiber contents that are suitable for vintage styles. Again, like all of them, you have to dig through to find prints that would work. (I've noted loads of florals that would be amazing for 50s dresses!)
Fabric Mart – This one is really hit or miss, and when you see something you have to snatch it up quick! Occasionally I've seen great rayon and silk prints that would work beautifully for many past eras, and of course lots of classic plaid wool during the winter.
Sawyer Brook – This is where I found the lovely silk print for my Swing Dress I made earlier this year. Again, another place to keep an eye out for quality fabrics in prints and colors that work for vintage sewing.
Vogue Fabrics – A mish mash of different fabrics, like most of the other websites I listed, but worth hunting for. I noticed quite a few rayon challis fabrics recently (some more appropriate for vintage sewing than others…).
Lastly, another great place to check is the Threads online fabric shopping list. It's a few years old (so some links are no longer working), but does have a lot of websites listed that would be useful to check.
Now if you're looking for real vintage fabric, thrift (charity) shops are great places to start! Of course, you won't always find what you're looking for, and supply and demand are in flux constantly, but I have discovered some real gems. Other sewing bloggers seem to have good luck at these sorts of shops as well—Debi is one that comes to mind as someone who has used some thrifted fabrics to make her vintage pieces. Other spots online would be Ebay and Etsy; just search "vintage fabric" or more specifically "vintage cotton print", "vintage rayon", etc. (It's all about the search terms!)
Do you have any favorite places to hunt for vintage-appropriate fabrics online? Please do share—I'd be delighted to know!