The recent discussion of cultural perceptions on beauty that we had has really got me thinking about beauty and how it relates both to women and history. I've been paging through my own small collection of vintage magazines, looking at beauty ads and contemplating how much (and little) things have changed over the generations. Realizing too that this push towards perfecting one's "flaws" is something that, while not new (women have been in search of things to make them "beautiful" since ancient times), has been capitalized on by manufacturers and the mass media in more recent history. Certainly the spread of media has made this more easy to market to women, which is probably why the beauty business has in part become what it is today.
While I do own quite a few beauty products of my own and enjoy my "primping" time to play with makeup, it's an interesting to observe how things have changed and yet not. Essentially women of the 21st century are the same as their great grandmothers in the 20s; we all want to look beautiful and are willing to hand over cash in order to become beautiful thanks to the latest miracle product. Which is why I think the visual and ephemera history of women's beauty is so fascinating: it reveals deeper layers of cultural perceptions of women, both from a societal standpoint and of the women themselves. Over the weekend I ran across two videos that I found utterly fascinating. In them is an interview with a historian who has an amazing (dare I say I'm envious?!) collection of women's beauty ephemera dating from the 19th century forward. She makes the excellent point about the correlation between body image and women's history when discussing these beauty products. Definitely worth a viewing if you have the time (and now I'm somewhat eager to read her book!).
I also thought I'd add a few images from my own collection to the mix as well. Isn't it interesting how in some ways things have become a bit more subtle in the modern age? Yet they still broadcast the same message, maybe just in more "sophisticated" (by 21st century standards) ways…
ladies' complexion perfecting face powder, 1906.
"vanishing" cream for a radiant complexion, 1912.
clear your complexion, 1921.
fascinating smile, 1929.
guard against "cosmetic skin"! 1937.
never-look-old lipstick, 1937. movie star makeup, 1944.
"enchanting hands" cream, 1947.
fan shaped powder case, 1947. (I think I've seen these at antique shops! so pretty!)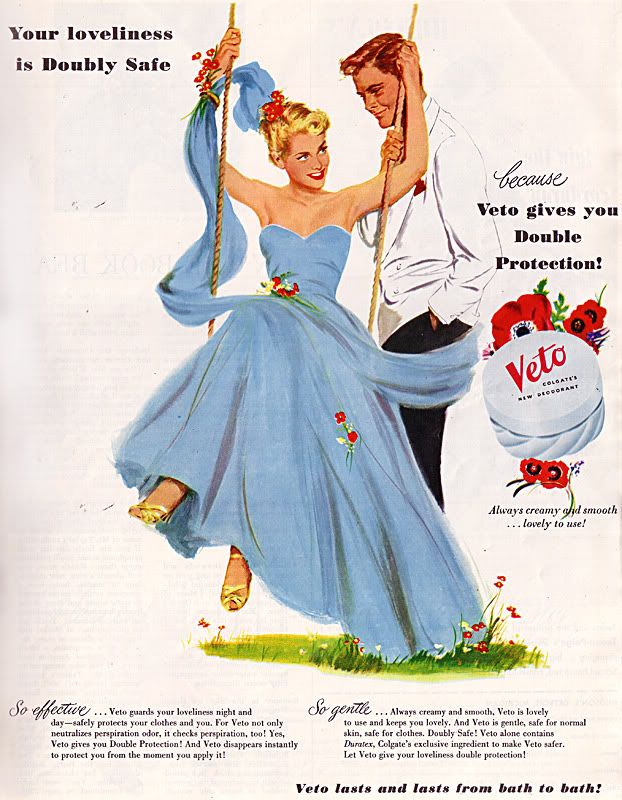 double protection, 1949.
tan gloriously, 1951.
Some of these may be quaint or even funny (I always get a chuckle out of the adverts promising "romance" if you use their product!), but has the underlying message really changed in the decades since? I'd love to hear your thoughts on vintage and modern beauty, if you'd care to share!